---

Saturday 13th October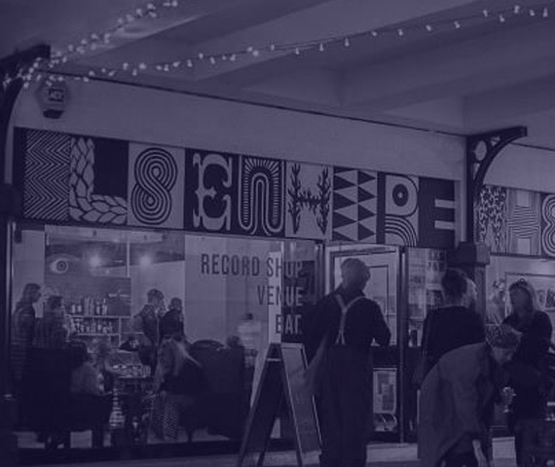 ---

Saturday 13th October
3.33pm Album Playback

Time: 3.33pm 
At 3.33pm on National Album Day we invite the Great British Public to stop what they're doing, sit back, relax and play an album of choice in full, from start to finish. It could be rejoicing in your favourite album of all-time, or selecting an album you've never heard before. 

We want to see what is your ultimate National Album Day album of choice - let us know by using the hashtag #NationalAlbumDay and handle @AlbumDayUK.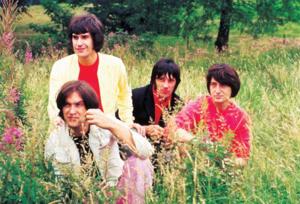 Classic Album Sundays X John Peel Centre - Dave Davies
Venue: John Peel Centre for Creative Arts, Church Walk, Stowmarket, Suffolk IP14 1ET 
Time: 5:00pm to 8:00pm
Tickets: £18 in advance 
http://classicalbumsundays.com/classic-album-sundays-and-the-john-peel-archive-present-ray-davies-on-the-kinks-are-the-village-green-preservation-society-on-bowers-wilkins/
The Kinks' Dave Davies will be interviewed by Classic Album Sundays founder and BBC 6music host Colleen 'Cosmo' Murphy to celebrate the 50th anniversary of The Kinks Are the Village Green Preservation Society. The interview will be followed by a full album playback of John Peel's personal vinyl copy of the record on a world class audiophile sound system installed by Nintronics featuring Bowers & Wilkins loudspeakers. The evening will wrap up with a Q&A allowing fans to ask questions of their own.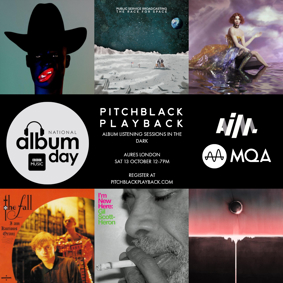 AIM x MAQ - Pitchblack Playbacks
Venue: The Sensorium at Aures London, 18 Leake Street, London SE1 7NN
Time: 11:30AM - 6:00PM 
Tickets: http://www.pitchblackplayback.com/national-album-day/
The Association of Independent Music (AIM), in association with Pitchblack Playback and MQA, has announced an all-day, fully immersive listening event to celebrate National Album Day 2018. Pitchblack Playback, as the name suggests, allows audiences to listen to albums in the dark through high quality audio systems to experience the most visceral, powerful sound experience possible. Six albums released on independent labels will be played back in MQA to deliver 100% of the original studio performance and deliver the highest quality audio experience.
Albums:
Mogwai – Every Country's Sun (Rock Action) 
Gil Scott-Heron – I'm New Here (XL) 
The Fall – I Am Kurious Oranj (Beggars Banquet) 
Public Service Broadcasting – The Race For Space! (Test Card Recordings) 
Young Fathers – Cocoa Sugar (Ninja Tune) 
SOPHIE – Oil Of Everything Pearls Un-Insides (Transgressive)  

Album Playback - The Lovely Eggs
Venue: The Bongo Club, 66 Cowgate, Edinburgh EH1 1JX

The Lovely Eggs will play their latest critically acclaimed album 'This is Eggland' live in its entirety for National Album Day 2018. Produced by Flaming Lips producer, Dave Fridman (Mogwai, Tame Impala, Mercury Rev) the band will celebrate with this special live performance in Edinburgh. They will perform The Bongo Club in Edinburgh.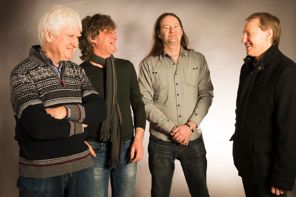 Album Playback - Barclay James Harvest
Venue: Islington Assembly Hall, Upper St, London N1 2UD
Tickets: https://www.seetickets.com/event/barclay-james-harvest/islington-assembly-hall/1209402
Barclay James Harvest are one of the world's most successful progressive rock bands. 1974's 'Everyone is Everybody Else' is seen as the band's artistic high point. It was voted into Radio Caroline's Top 100 albums of all time and John Peel invited the band to record a session for BBC Radio One at this time. In celebration of National Album Day the band will perform their classic album 'Everyone is Everybody Else' in full, for the first and only time.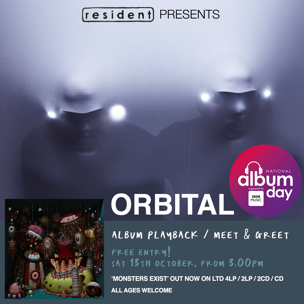 ORBITAL - Meet & Greet and Album Playback at Resident Music
Venue: Resident Music, 28 Kensington Gardens, Brighton, BN1 4AL
Time: 3:00PM
FREE ENTRY
To celebrate National Album Day and the recent release of the fantastic 'Monsters Exist', Resident Music Brighton are thrilled to have the legendary rave-mongers and National Album Day Ambassadors ORBITAL host a special meet & greet session and an album playback! FREE ENTRY!
The Attic - Album vs. Album
Venue: 74 Market St, Ashby-de-la-Zouch LE65 1AN
FREE TICKETS
https://www.facebook.com/events/274334423400024/?ti=icl 

It's ALBUM vs ALBUM!!! All day & night! Put your favourite album up against someone else's album and you (the crowd) decide who wins. All you have to do is click on our webpage, claim a free ticket for you and your friends, tell us your favourite album and bring it with you, it may be played.
We will have heats and hopefully we'll have a winner by the end of the night. Who will receive £100 pound voucher to spend in store!! REMEMBER ITS FREE TO COME AND ENTER. The records are here to browse, THE BAR WILL BE OPEN & we'll be spinning some amazing albums of your choice 🔥🎼🎤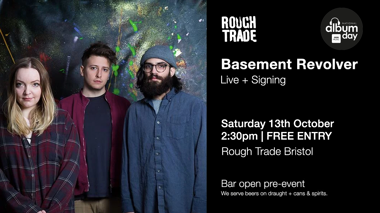 Rough Trade Bristol - Basement Revolver Album Playback and Signing
Date: Saturday, 13th October
Venue: Rough Trade Bristol, 3 New Bridewell, Nelson St, Bristol, BS1 2QD
Time: 1:30pm Doors, 2:30pm performance, signing after show. 
To celebrate National Album Day, Basement Revolver will be live in-store at Rough Trade Bristol to perform tracks from their debut album 'Heavy Eyes' which is out now on Fear of Missing Out Records. 
This show is free entry - if you purchase your album at the show you can get it signed by the band afterwards. 
Vinyl Head Cafe and Record Shop - 20% Discount of Albums
Venue: Addington St, Ramsgate CT11 9JN
https://www.facebook.com/events/1905802129454930/

For National Album Day, Vinyl Head will be offering their customers a 20% discount on albums throughout the day (excluding new vinyl).
Oldie's Unlimited Record Shop - 10% Discount of Albums
Venue: 89 Darlington St, Wolverhampton WV1 4EX

For National Album Day, Oldie's Unlimited will be offering 10% off all new vinyl purchases throughout the day on Saturday 13th October.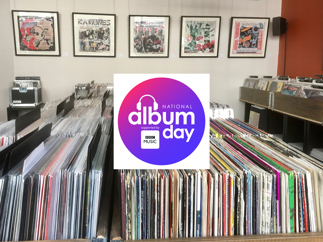 Vinyl Guru - Punk Day Celebrations
Venue: 69 Westgate Rd, Newcastle upon Tyne NE1 1SG

Vinyl Guru is going full on Punk for the day!For National Album Day Saturday October 13th Vinyl Guru will be hosting live album playbacks all day of iconic punk debut albums from:
Adam & The Ants - Dirk Wears White Sox
Buzzcocks - Another Music In a Different Kitchen
Clash - Clash
Damned - Damned, Damned, Damned
The Jam - In The City
Ramones - Ramones
Sex Pistols - Never Mind The Bollocks
Siouxsie + The Banshees - The Scream
Stranglers - Rattus Norvegicus
Television - Marquee Moon
and more..
The shop will also turn Art Gallery for the day hosting explosive punk artist Mal- One's latest exhibition "Never Mind The Punk 45" and feature loads of special discounts on new and used punk vinyl albums for one day only!
We'll be holding a Punk Rock T-Shirt competition for the best punk T Shirt and there'll be punk giveaways of books, posters and merchandise with every purchase.
We'll have our vinyl valuer on hand to offer valuations on your rare punk vinyl and we'll be offering a free demo our ultrasonic vinyl cleaning service so you can clean away the cobwebs from your favourite punk vinyl. So dig out your safety pins and pogo on down to Vinyl Guru.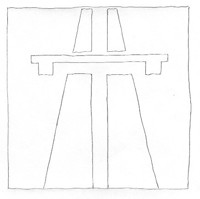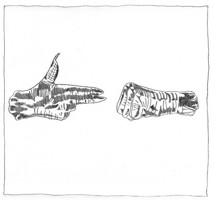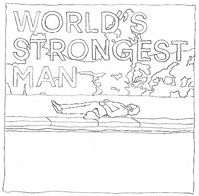 Spinning Discs Sheffield Colouring Competition?
Date: Saturday, 13th October
Venue: 55 Chesterfield Rd, Sheffield S8 0RL
LINK: https://www.facebook.com/events/2109142629348418/
Calling all budding artists! It's your chance to win on National Album Day in the Spinning Discs Sheffield colouring competition. Get down to the record shop on Saturday 13th October to create your own unique album sleeve. You don't have to start from scratch as we've got some great classic album cover templates to choose from too. What more can you ask for! Some fun, creativity and bonding. What's the best colour for Kraftwerk's 'Autobahn'? Could the hands on Run The Jewels '3' be improved with some glitter nails? Should Gaz Coombes be wearing a tartan suit on the cover of his new album 'World's Strongest Man'. It's entirely your call. We'll be looking for some creativity and choosing our favourite cover. The winner will receive 2 tickets to see the amazing Gaz Coombes at The Foundry SU on Saturday 27th October!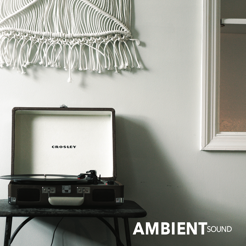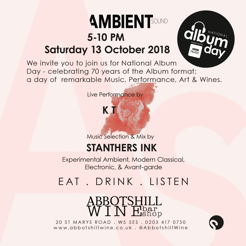 Ambient Sounds - Stanthers Ink Event

Venue: Abbotshill Wine Bar & Shop, 20 St Marys Road, London, W5 5ES
Time: 5:00PM - 10:00PM 
Experimental Ambient and Electronic DJ set Selected Album: Huerco S - For Those of You Who Have Never (And Also Those who Have) Label: Proibito There will also be a live performance by KT. Music Selection and mix by Stanthers Ink.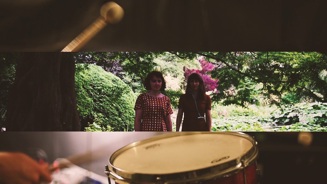 Album Playback at Forever Records - Rattle
Venue: 2A Cobden Chambers, Pelham Street, Nottingham, NG1 2ED
Time: 3:33pm - 5:30pm
FREE EVENT

To celebrate the album's 70th birthday we have invited the band Rattle along to share their new album 'Sequence' before its release in November. This will be followed by a Q&A with the band and the album producer Mark Spivey. Their new album "Sequence" was recorded in Nottingham at JT Soar and will be released on 02/11/18 on Upset The Rhythm.

After we play the record the band and Mark will answer your questions about how the album came together and was recorded. This is a rare opportunity to hear an album in full with a band and then find out more about the albums creation.Thanks so much to Rattle for agreeing to this, we are so excited! This is a FREE event held from 3:33pm - 5:30pm.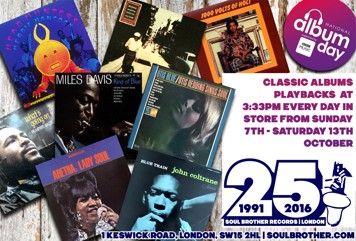 Soul Brother Records - Top 33 Favourite Albums
Venue: 1 Keswick Rd, London SW15 2HL
In the week running up to National Album Day, each day we will be publishing our top 33 albums of each music genre that we carry. We will also be playing back a classic album in the store each day at 3.33pm.
On the day itself we will playing back classic and new albums throughout the day, with our top album at 3.33.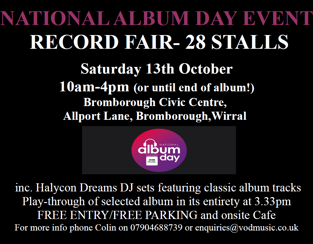 VOD Music - Record Fair 
Venue: Bromborough Civic Centre Allport Lane Bromborough,Wirral CH62 7HR
Time: 10:00AM - 4:00PM 
FREE ENTRY/ FREE PARKING 

Record Fair 28 Stalls with top UK Record dealers. Halycon Dreams DJ sets featuring classic album tracks Play through of selected album in its entirety at 3.33pm. Free entry to the Record Fair and there's also free parking and an onsite cafe. For more info phone Colin on 07904688739 or enquiries@vodmusic.co.uk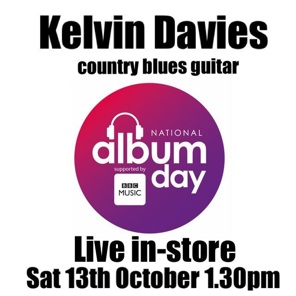 David's Music - Kelvin Davies, Live In-store Performance
Venue:12 Eastcheap, Letchworth Garden City, SG6 3DE
Time: 1:30PM 
FREE TO ATTEND
We're very pleased to announce that we'll have KELVIN DAVIES live in the shop to celebrate National Album Day! - Sat 13th Oct 1.30pm (free) - Kelvin plays absolutely astounding country blues guitar, keeping the traditional tunes going - ft our pal Gary on harmonica!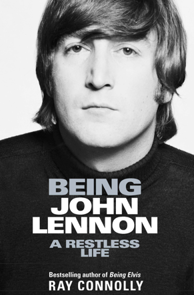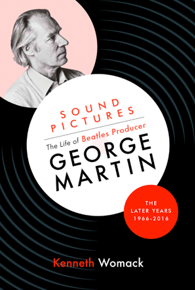 Matters of Vinyl Importance - 1968: The White Album and its Aftermath Ray Connolly & Ken Womack in conversation *EXCLUSIVE*
Date: Saturday, 13th October
Venue: MOVI, 163 Hoxton Street, London, Hoxton, N1 6PJ
FREE TO ATTEND 
To celebrate National Album Day please join Beatles insider and veteran journalist, Ray Connolly, as he talks about his experiences with the Fab Four and their entourage in a seminal year for the band, alongside acclaimed Beatles biographer and academic, Kenneth Womack.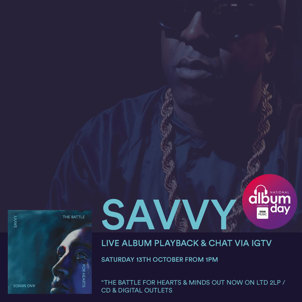 SAVVY - Saving Grace: Live Streamed Album Playback
Date: Saturday, 13th October
Venue: Instagram's IGTV and YouTube
Time: 1:00PM
LINK: https://www.instagram.com/iam_savvy/channel/

Live stream of Savvy album on IGTV and YouTube. Savvy releases his long anticipated LP 'The Battle For Hearts & Minds' featuring guest appearances from a range of artist & musicians like Aisha Zoe, DJ IQ aka Luke Storey, Lisa Luxx, Ben Maron, Malcolm Carson, Therealdemo, Dj Madhandz, Joh1st, Jade America, and more…
In Savvy's words: "It's a look at the state of the world: at our battle for power, control, for sanity & clarity. " I guess I'm questioning: what's your battle? What are you dealing with? Why's this the case? …The lyrics in the tracks relate to these questions in complex ways. They're split between logic and emotion."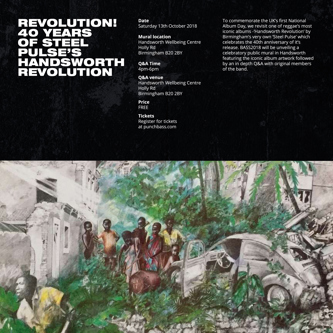 Steel Pulse Mural Unveiling - BASS2018 Festival x Punch Records
Mural Unveiling Location: Handsworth Wellbeing Centre, Holly Rd, Birmingham, B20 2BY
Mural Unveiling Time: 2:00PM
Q&A Venue: Handsworth Library, Soho Rd, Birmingham, B21 9DP 
Q&A Time: 4:00PM

More info and Tickets: https://www.wearepunch.co.uk/album/revolution-40-years-of-steel-pulses-handsworth-revolution/
To commemorate the UK's first National Album Day, one of reggae's most iconic albums 'Handsworth Revolution' by Birmingham's very own 'Steel Pulse' which celebrates the 40th anniversary of it's release will be revisited.
BASS2018 will be unveiling a celebratory public mural in Handsworth featuring the iconic album artwork followed by an in depth Q&A with original members of the band, Mykaell Riley & Basil Gabidon chaired by Jez Collins from Birmingham Music Archive.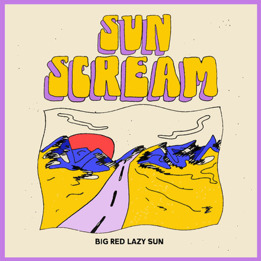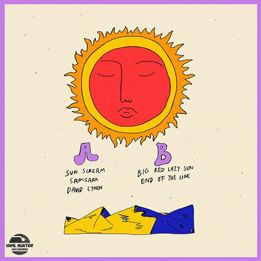 Vinyl Hunter Album Launch - Sun Scream
Venue: 56 St John's St, Bury Saint Edmunds IP33 1SN
Vinyl Hunter - Bury St Edmunds, Suffolk are delighted to announce the launch on National Album Day of local band Sun Scream's 1st EP - Big Red Lazy Sun on limited edition lilac vinyl.
This collaboration with Vinyl Hunter Recordings will be performed at Vinyl Hunter shop live on National Album Day alongside an Open Dec Day with guest DJ's playing their all time favourite albums. At 3.33pm Vinyl Hunter will be playing the all time top album voted for by their customers with Sun Scream performing tracks From Big Red Lazy Sun - a future all time favourite. They will be available to sign the 1st copies limited to 300 copies.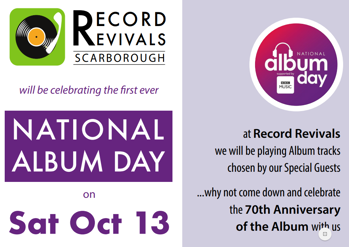 Record Revivals - Open Decks and Playbacks
Venue:6 Northway, Scarborough YO11 1JL

Downstairs, staff members Eleanor and Ruben will be choosing their own favourite album tracks from the last 50 years and playing them in chronological order.
Upstairs we'll have an 'open decks' session hosted by owners Paul and Gill, where customers can play their favourite album tracks on vinyl and CD. There's a beer or a glass of wine for anyone who joins in the fun. We've also asked some special guests with local connections to chose their favourite tracks . We'll be playing those and will be reading out what those tracks mean to our guests.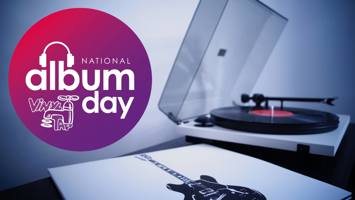 Vinyl Tap - Albums Through The Decades
Venue: 42 John William St, Huddersfield, HD1 1ER
Time: 10:00AM
https://www.facebook.com/events/467838547055367/

From 10am with the help of Brook Audio, we will be playing one album from each decade on vinyl on a high end system on the hour, every hour until we close, finishing with a brand new album released that weekend.
"How do you choose which albums to play?" I hear you ask, well that's where you come in. We are asking for your suggestions, one from each decade starting from the 50s right the way through to the present decade. We will then use your collective suggestions to select 7 albums to play. Please follow the following link and make your suggestions (ONE album from EACH decade, Artist and Title) via this survey: https://www.surveymonkey.co.uk/r/5LN76CH
An expert panel (the Vinyl Tap staff) will then narrow down your suggestions to the 7 albums to be played in full on the day in store. Sounds fun eh? Get involved!

Saturday 13th October | Free Entry | All Day Event | All Ages Welcome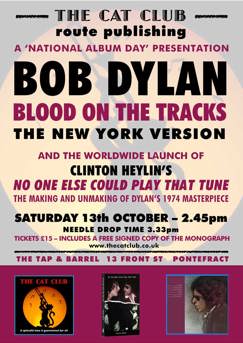 Classic Album Thursday - The CAT Club
Date: Saturday, 13th October
Time: 2:30pm - 5:00pm 
Venue: The Tap & Barrel, 13 Front Street, Pontefract,WF8 1DA 
Ticket: Entrance to the launch is £15 and includes a free copy of the book.
To mark the inaugural National Album Day, The CAT Club will be holding a Saturday matinee event with a rare version of a classic album, a book launch and a very special guest.
We welcome leading Dylan authority CLINTON HEYLIN for the worldwide launch of his new monograph 'NO ONE ELSE COULD PLAY THAT TUNE – THE MAKING AND UNMAKING OF DYLAN'S 1974 MASTERPIECE' and the playing of the New York version of Bob Dylan's seminal album, Blood on the Tracks.
Bob Dylan originally recorded Blood on the Tracks mainly acoustically in New York but, as the release of the album was imminent, he rerecorded 5 of the songs with a band in a studio in Minneapolis that had a very different feel. Not for the first time there are many who think the man himself made the wrong decision. We will be playing the original New York version.
The record will play after a presentation from Clinton. In synchronicity with other National Album Day events taking place across the country, needle drop time is 3:33pm.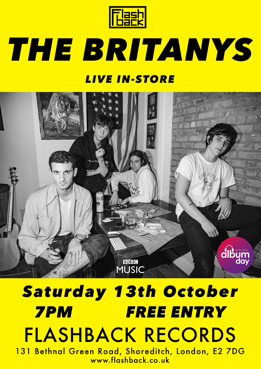 Flashback Records - The Britanys
Date: Saturday, 13th October
Time: 7pm
Venue: Flashback Records, Shoreditch
Ticket: Free Entry
New York indie sensations, The Britanys (https://www.facebook.com/pg/thebritanys) to play a National Album Day FREE ENTRY in-store on Saturday 13th October, 7PM at Flashback Records, Shoreditch.
Also, on the week leading up to National Album Day at Flashback Records, Essex Road, we will have an installation by audiophile stereo specialists Graham's Hi-Fi (https://www.grahams.co.uk/), playing our staff's favourite top 50 albums on vinyl, which will also be reduced by 10% across all shops
Empire Records St Albans - Album Playbacks
Venue: Empire Records,  21 Heritage Close, High Street, St Albans, AL3 4EB
Time: All day
Empire Records will be playing the greatest albums of all time as voted for by you, throughout the day. We've put together a list of a few of our favourites to get you started, so either vote for one of those, or comment below with your own pick, and we'll play those with the most votes on the day! #NationalAlbumDay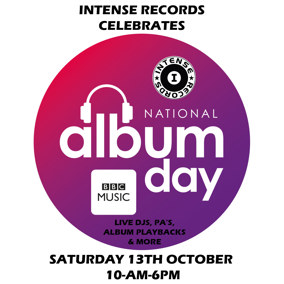 Intense Records - In-Store party!
Venue: Intense Records, 33-34 Viaduct Rd, Chelmsford, CM1 1TS
https://www.facebook.com/events/491473868001348/
We'll be celebrating with style in the shop with a selection of DJs, live PA's, and local techno don Sergio Vilas will be giving us a live rendition of his forthcoming 'Universal Child' album. #NationalAlbumDay
We invite you to celebrate and share your most loved albums with the world. We want to hear about the albums that inspired you, the albums that changed your life and the albums you just could not live without.

The Intense Record Staff will be bringing in some of their favourite albums for playback, as well as curating our own 'Top 10' albums list. We'd like for you to bring your favourite records in as well, so that we can all listen to them - the more varied the better!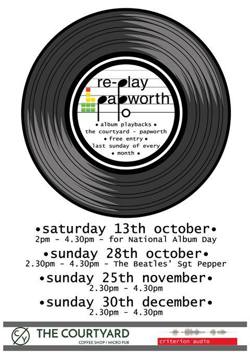 Re-Play Papworth - Album Playbacks
Venue: Pendrill Court, Papworth Everard, Cambridge, CB23 3UY 
Time: 2:00PM
https://www.facebook.com/events/2355852557981484/ @PlayPapworth

We'll be playing vinyl albums from 2pm onwards - at 3:33pm we have picked Crosby, Stills & Nash. Play Papworth are pleased to announce a series of musical events to be held at the Courtyard coffee shop / micro pub, Pendrill Court, Papworth Everard.
RE-PLAY PAPWORTH: album playback. We'll be working our way through the catalogue of classic albums; be they rock, pop, folk, classical, jazz, or whatever; we might even throw in a few more obscure should-have-been-classics. When's the last time you sat down with friends and listened to an album all the way through? For the benefit of younger readers, this is what your parents used to do with their friends, when they were your age!
There's no better way to listen to an album than hearing it on vinyl. Our friends at Criterion Audio, Girton (www.criterionaudio.com) will be bringing a high-end vinyl hi-fi system to the Courtyard for Re-Play Papworth sessions. We'll have a CD player on standby, too! This isn't a DJ set. We'll be theming our events around the featured classic album and inviting guest music experts and authors to set the scene. If you have a favourite record or CD you'd like to suggest, bring along, and maybe even talk about, please get in touch via the Play Papworth Facebook page.