---

Classic Album Sundays - Caroll Thompson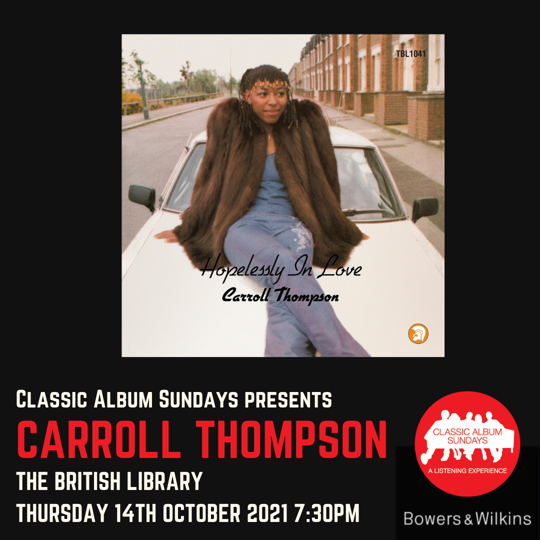 ---

Classic Album Sundays - Caroll Thompson
Carroll Thompson joins Colleen 'Cosmo' Murphy at The British Library on Thursday 14th October 2021 at 7:30pm to discuss the story of Lovers Rock and her classic album, Hopelessly In Love. Known as 'The Queen of Lovers Rock', the uniquely British flavour of reggae music that remains as popular as ever, Carroll will talk about her special place and career in music, and we get to hear some classic tracks in an all-vinyl listening session. 
Carroll Thompson took the British music scene by storm in 1980 with her classic single 'Simply In Love' and her breathtaking follow up 'Hopelessly In Love'. The album of the same name ensured her enduring legacy. The album has been remastered and re-issued on its 40th anniversary and to mark National Album Day. 
Music from the discussion will be played on a world class hi-fi system with Bowers & Wilkins' exceptional new 800 Series Diamond loudspeakers – the renowned audio brand's most revered and advanced range of loudspeakers. 

There are 5 pairs of tickets to giveaway for this event.
Please enter by contacting: 
[email protected] 
Ticket link: https://www.bl.uk/events/Classic-Album-Sundays-presents-Carroll-Thompson  
Event link: https://classicalbumsundays.com/classic-album-sundays-presents-carroll-thompson/