---

DMC Listening Party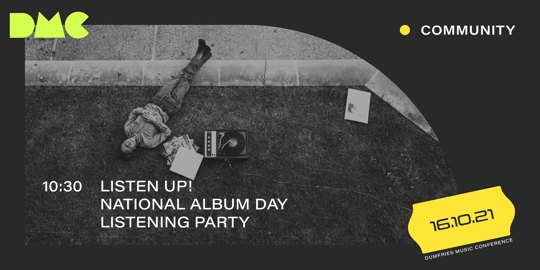 ---

DMC Listening Party
Circa 16 Sound Recording's Listening Party #3 featuring Annie Lennox's 'Diva' from start to finish. A late breakfast wake-up event for National Album Day 2021.
Circa 16 Sound Recording's popular listening parties return with their next guest, ONR, selecting Annie Lennox's breakout album, "Diva". In the current climate of rapid music consumption, endless choice, playlists and single only releases, we take a moment to celebrate the album format. The listening party concept is simple, a guest picks an album which is then played start to finish on the day, on vinyl, through a nice sound system. There's a comfy lounge atmosphere, and a range of speciality coffee. You might not have a turntable or stereo at home, you might want to hear something you have never heard before, you might want to get together with like-minded people, you might be interested in the sonics of the album, or you might just be looking for an hour free of distraction and rest for your mind!
Please come along, enjoy the music, and take what you want from it. This event forms part of National Album Day and fits perfectly with 2021's theme of "Celebrating Women in Music!"