---

Nina Simone - The Montreux Years (Limited Edition)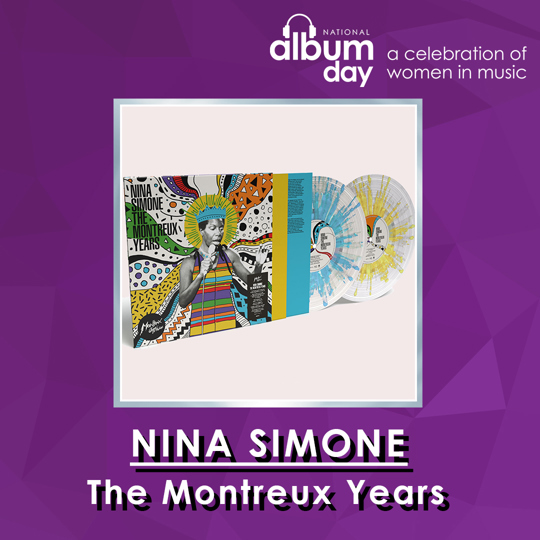 ---

Nina Simone - The Montreux Years (Limited Edition)
Limited Turquoise/ Yellow &White Splatter Colour Vinyl For National Album Day 2021.
Nina Simone's story from the late sixties to the nineties can be told through her legendary performances in Montreux. Taking to the Montreux stage for the first time on 16 June 1968 for the festival's second edition, Simone built a lasting relationship with Montreux Jazz Festival and its Creator and Founder Claude Nobs, which uniqueness, trust and electricity can be clearly felt on the recordings. Simone's multi-faceted and radical story is laid bare on 'Nina Simone: The Montreux Years'. From Nina's glorious and emotional 1968 performance to her fiery and unpredictable concert in 1976, one of the festival's most remarkable performances ever witnessed, the collection includes recordings from all of her five legendary Montreux concerts – 1968, 1976, 1981, 1987 and 1990.
Featuring rare and previously unreleased material from Claude Nobs' private collection, Nina Simone devotees worldwide will be thrilled by the inclusion of the powerful I Wish I Knew How It Would Feel To Be Free, poignant and fearless Four Women and Simone's hauntingly beautiful performance of Ne Me Quitte Pas. A spine-tingling version of Janis Ian's searing and potent Stars, which Simone covered for the very first time during her 1976 Montreux performance, sits alongside her bold and electrifying re-imagine of Bob Marley's ballad No Women No Cry in 1990. The collection closes with the encore of Nina Simone's final Montreux Jazz Festival concert and one of Simone's most-loved and best-known recordings, the exuberant My Baby Just Cares For Me, showcasing the deep and multidimensional facets of Simone's life and music.
This is a National Album Day exclusive and is available to pre-order or buy from the 16th October from a range of retailers including independent record shops, HMV, Amazon and more. Check in with your retailer of choice to see what they have in stock.
Pre-order dates vary for National Album Day products. Please check with your local retailer and keep an eye on artist and National Album Day socials for the latest information!