---

Stevie Nicks - Live In Concert The 24 Karat Gold Tour (Limited Edition)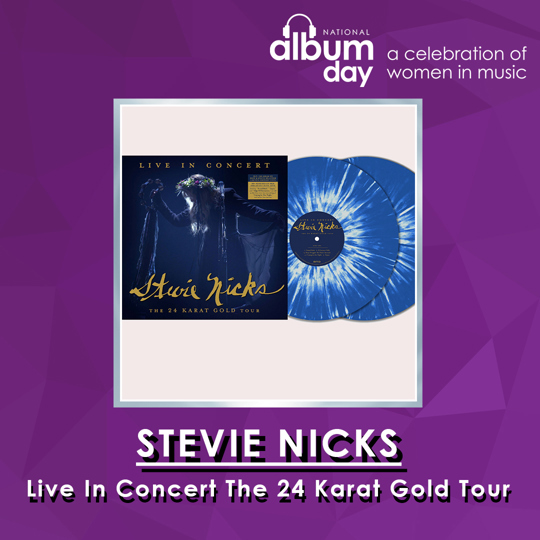 ---

Stevie Nicks - Live In Concert The 24 Karat Gold Tour (Limited Edition)
Limited Blue & White Splatter Colour Vinyl For National Album Day 2021.
Stevie Nicks' solo catalog has sold over 103,000 albums in 2019, including 90,000 in physical alone.
The power of her classic legendary hits endures to this day—nearly 2.7 MILLION on demand streams per week, over 150 MILLION total in 2019, and continued radio presence— over 1,700 plays per week / over 8 MILLION audience per week and a staggering nearly 450 MILLION in audience for 2019!
Filmed and recorded in Indianapolis and Pittsburgh in 2017 during the 67 city sold out tour, 24K Gold Live in Concert features her solo hits "Stop Dragging My Heart Around, "Stand Back", & "Edge Of Seventeen", as well as Fleetwood Mac's "Rhiannon" & "Gypsy".
It also includes the first ever live recording of "Crying In The Night", and other live rarities. Available exclusively for National Album Day in Limited Edition Blue & White splatter vinyl.
This is a National Album Day exclusive and is available to pre-order or buy from the 16th October from a range of retailers including independent record shops, HMV, Amazon and more. Check in with your retailer of choice to see what they have in stock.
Pre-order dates vary for National Album Day products. Please check with your local retailer and keep an eye on artist and National Album Day socials for the latest information!