---

Album Artwork Through The Ages exhibition moves to The O2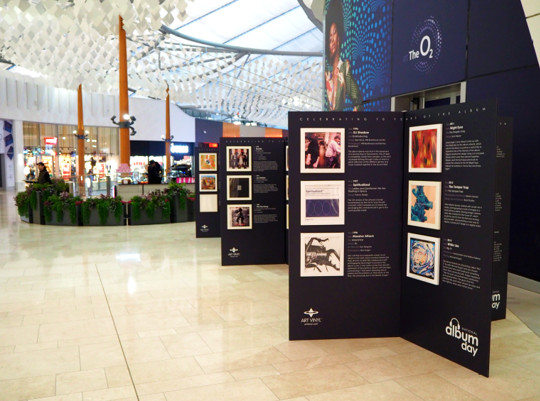 ---

Album Artwork Through The Ages exhibition moves to The O2
An exhibition commemorating 70 years of iconic album artwork curated for the UK's first ever National Album Day is now on display in ICON Outlet at The O2, linking the outlet to The O2 arena's world of music and entertainment.
Originally exhibited in Waterloo, Manchester Piccadilly and Glasgow Central train stations, the exhibition spans seven decades of popular art, music and design and marks the cultural milestone of the 70th anniversary of the album format. It shines a light on the most iconic album designs in popular culture and explores the fascinating history behind some of the most renowned designs of our time.
In association with the Best Art Vinyl Awards, an expert panel of judges were enlisted to select the best album artwork to represent each year from 1949 – 2004. These contribute to the last 13 winners of the Best Art Vinyl Awards which has been running since 2005 and the result, in many ways, is a definitive retrospective of UK popular culture one 12 inch at a time.
In November 2018, the public voted the cover of Joy Division's 'Unknown Pleasures' as the Best Album Artwork of All Time. Released in 1979, the album celebrates its 40th anniversary this year.
The exhibition begins with work from 1949 with a design by Alex Steinweiss who is regarded as the world's first sleeve designer. In this case, it is for one of the very first LP releases of music by Beethoven. This marks the beginning of a visual journey which pays homage to classic album covers including the likes of Miles Davis 'Bitches Brew', Nick Drake 'Pink Moon', Grace Jones 'Night Clubbing' to more recent artistic designs including Massive Attack 'Mezzanine', The Strokes 'Is This It' and Run the Jewels 'Run the Jewels 3'. Massive Attack are set to perform the classic album 'Mezzanine' in its entirety at The O2 on Friday February 22nd, 2019.