---

BBC Radio 2 opens a public vote to find the ultimate 80s album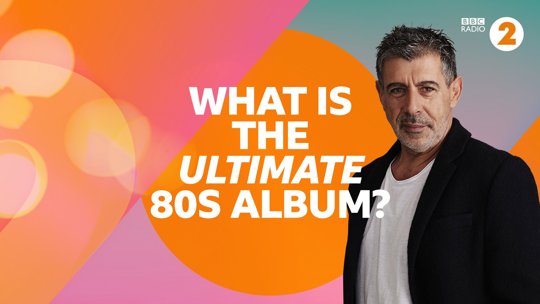 ---

BBC Radio 2 opens a public vote to find the ultimate 80s album
To celebrate National Album Day on the 10th October and this year's 80s theme, BBC Radio 2 DJ, Gary Davies is on a quest to find out - which is the nations number one album... Gary is putting the question to the public and finding out which 80s album you love the most! 
"Stadium rockers, pop megastars, New Romantics, synth-pop pioneers, indie gods, hip hop heroes, and beyond... the 80s had it all, in spades. We've whittled them down (and believe us, it was tough!) to a shortlist of 50 of the most celebrated albums of the decade. The final 50 have been selected by a panel of music experts, based on the best-selling albums of the decade, alongside those that have endured to this day, as well as some slow-burners that are now considered classics of the era, allowing just one album per artist."
So who has your vote? Have you got Faith in George Michael, or did Depeche Mode, really create Music For The Masses?
Follow the link to cast your vote for THE ultimate 80s album:  www.bbc.co.uk/programmes/articles/2HXwW7yy2T2tw4YqlDXvBJZ/your-ultimate-80s-album-vote
Voting closes at midday on Wednesday 30th September. The results will be revealed by Gary Davies in a Sounds Of The 80s Ultimate 80s Albums countdown special, on Radio 2 and BBC Sounds from 8pm on Friday 9th October.