---

Classic Album Sundays & National Album Day present a special one-off event with legendary band James celebrating their iconic albums of the 90s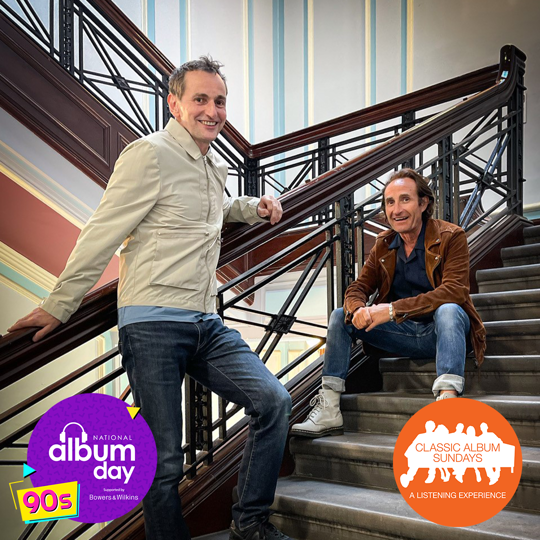 ---

Classic Album Sundays & National Album Day present a special one-off event with legendary band James celebrating their iconic albums of the 90s
National Album Day is taking place on Saturday 14th October, and today announces its first event in celebration of this year's 90s theme. In partnership with Bowers & Wilkins, Royal Albert Hall and Classic Album Sundays presents James' 'Gold Mother' with Jim Glennie and Saul Davies, on 17th October.
Tickets are available from Friday 18 August here
Classic Album Sundays founder Colleen 'Cosmo' Murphy is joined by James' Jim Glennie and Saul Davies to discuss and celebrate James' classic album 'Gold Mother' originally released in 1990. The record was a breakthrough for the band and featured hits 'Come Home' and 'Sit Down' which helped it place #2 on the UK Album Chart. This year James celebrated forty years with 'Be Opened By The Wonderful', reaching #3 in the album charts and headlined venues across the UK on their 'James Lasted' tour, with tickets selling out in a record time of 6 hours.
Glennie and Davies will discuss the story behind the album followed by a vinyl replay on world-renowned audio brand and official National Album Day partner Bowers & Wilkins' flagship 800 Series Diamond loudspeakers, used as reference monitors in some of the world's leading recording studios, including Abbey Road Studios, over the past 40 years.
The event is part of National Album Day's 2023 programme of events. National Album Day returns on Saturday 14th October and this year will be themed around The 90s, following previous celebrations that included The 80s, Women in Music, and, just last year, Debut Albums. It will also help to honour 75 years of the album LP format.
Now in its sixth edition, National Album Day sees the music community come together each year to celebrate and promote the art of the album. This year's 90s theme will look to shine a light on a profoundly rich decade for music and album making that skipped between Britpop, Trip Hop and Hip Hop; gave us national treasures Take That and global phenomenon the Spice Girls; and saw diverse genres ranging from dance, house and techno to R&B, rap and reggae and to grunge and industrial rock, among many others, rise to reach their full cultural expression –  in the UK and globally.
National Album Day is again presented in association with official broadcast partner BBC Sounds, and will pay tribute to artists who tell their stories behind these significant and influential bodies of work.  Artist ambassadors tied into the theme – both those that came to the fore during the 1990s and current new and emerging talent that are inspired by its music; specially reissued albums and new releases; and promotional events and other activities will be announced in due course alongside further updates.
Since its launch in 2018, NAD has been supported by a broad range of artist ambassadors, including Kylie Minogue, Joy Crookes, Sharleen Spiteri, Lewis Capaldi, Mark Ronson, La Roux, Elbow, Paloma Faith, Blossoms, Alice Cooper, Novelist, Tom Odell, Mahalia, Toyah Willcox and Jazzie B. Last year Franz Ferdinand, India Arkin, KSI, The Mysterines, Sam Ryder, and The Staves were the latest talents to add their voices as passionate advocates of the long player.  
Typically benefitting from around a week-long build up, NAD has hosted a variety of activities such as listening events with album platforms including Classic Album Sundays, Pitchblack Playback, The Record Club, Tape Notes and Tim's Twitter Listening Party; live performances; in-store artist appearances and record store promotions, street art murals; and album sleeve artwork exhibitions.
Keep track of National Album Day online for regular news updates and for details of how to get involved over the coming months.