---

Classic Album Sundays to host a week of special National Album Day events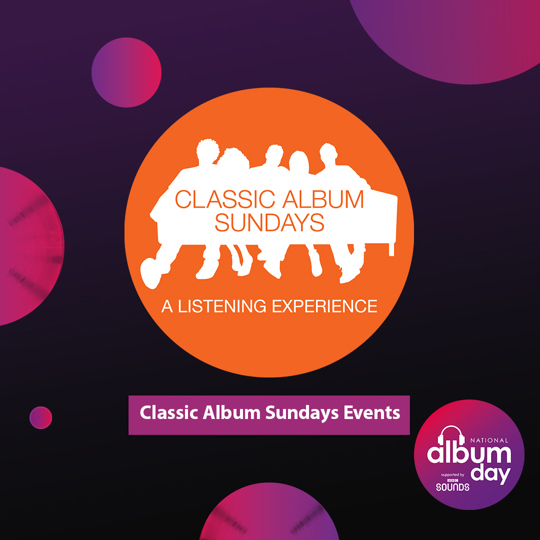 ---

Classic Album Sundays to host a week of special National Album Day events
Classic Album Sundays will be hosting a week-long run of events to celebrate the second National Album Day. There will be a range of events taking place across the week leading up to the day:

6th October - Elbow's Guy Garvey at The Royal Albert Hall, 7pm
Colleen 'Cosmo' Murphy will be joined by elbow's Guy Garvey to take a look at their brand new album Giants of All Sizes in the Elgar Room. The interview with Guy will be followed by an exclusive full playback of the brand new album allowing fans the chance to hear it a week before release.

Lead singer and lyricist Guy Garvey describes the album as "an angry, old blue lament which finds its salvation in family, friends, the band and new life." It is a record that lyrically takes in moments of deep personal loss whilst reflecting its times by confronting head-on the spectres of injustice and division not just in the UK but across the world. It is a record that could only have been made in the 21st Century.

Tickets are now SOLD OUT
6th October - Prince's Purple Rain playback at Bank House Stafford, 4pm-8pm
Having released an album a year from 1978 through to 1982 (and having played songwriter, performer, producer and all the instruments on most) Prince was ready for a new direction. He put together a new band, The Revolution, and not only recorded a new album but starred in a semi-biographical movie of the same name "Purple Rain". The album was more of a collaborative effort with the band, and Wendy Melvoin (of The Revolution and later Wendy & Lisa) refers to the album as "a new beginning. Purple, the sky at dawn; rain, the cleansing factor."
Come and join us for playback on our world-class Audiophile Hifi System

Tickets can be purchased here.
7th October - Jazzie B on Soul II Soul Club Classics Vol.1 at The British Library, 7pm-9pm
The DJ and producer behind Soul II Soul talks to Colleen 'Cosmo' Murphy about one of the greatest black British albums of all time, Club Classics Vol.1, which gave us Back To Life and Keep On Movin' on Monday 7th October 2019 as part of Classic Album Sundays National Album Day celebrations. Followed by a full vinyl playback on an audiophile sound system courtesy of Graham's Hi-Fi.
Jazzie B revolutionised black British music when he founded the band Soul II Soul. Their debut 1989 album became an international phenomenon; its blend of soul, reggae and funk landing perfectly amid the exploding house music culture of that year. The global musical landscape was changed forever.
Tickets can be purchased here.
8th October - Classic Albums By Women Book Launch at Brilliant Corners, 7pm-9:30pm
Join us at Brilliant Corners for the official launch of the first-ever Classic Album Sundays book Classic Albums By Women as part of our National Album Day celebrations.
We will have copies of the book available and we are asking anyone coming down to bring along their favourite album by a woman (on vinyl) as we will be playing songs from these albums throughout the evening!
Classic Albums By Women includes 100+ of the best albums by women, as chosen by musicians, DJs, producers, journalists, radio hosts and music industry insiders. It's an overdue celebration of women's significant and compelling contributions to music. Across the genres, across the generations, across the board, this book presents over one hundred inspirational albums by women, from top-selling hits to the indie and obscure.
Copies of the book will also be available on the night!
Tickets are not required, this is a free event.
9th October - Penguin Cafe's Arthur Jeffes at The Royal Albert Hall, 7pm
Penguin Cafe's Arthur Jeffes joins Classic Album Sundays' founder and BBC Radio 6 Music host Colleen Murphy to discuss the story behind their latest album Handfuls of Night as part of our National Album Day celebrations.
The album, which will be played in full over a world-class hi-fi system, is the follow-up to Penguin Cafe's much-applauded record The Imperfect Sea (2017) and sees Arthur Jeffes' journey follow in his father's footsteps – on a project inspired by the Antarctic.
Handfuls of Night began life after Greenpeace commissioned Jeffes to write four pieces of music corresponding to four breeds of penguins, to help raise awareness for the endangered Antarctic seas.
Following the conversation and playback there will be an audience Q&A.
Tickets can be purchased here.
12th October (National Album Day) - The Wedding Present 'George Best' and Live Acoustic Performance at the John Peel Centre for Creative Arts, 5pm-8pm
"The boy Gedge has written some of the best love songs of the 'Rock 'n' Roll' era. You may dispute this but I'm right and you're wrong!"  – John Peel
The Wedding Present will join BBC 6music host Colleen 'Cosmo' Murphy to celebrate National Album Day on Saturday, October 12th 2019 with a look back at their debut album George Best, discussing their early inspirations and the lasting impact of the album. This will be followed by a full album playback on a world-class audiophile sound system. Then we have an exclusive live 20-minute acoustic performance from David followed by a Q&A with the audience.
Championed by BBC Radio One's John Peel and successive early evening DJs (and originally released on their own Reception Records) it will be precisely thirty-two years to the day that George Best was originally released. The new version will be available as a limited edition green vinyl LP comprising the original twelve tracks and a CD which will consist of a further eleven non-album tracks from the same era.
Tickets can be purchased here.
All events and information can be found here:
https://classicalbumsundays.com/classic-album-sundays-national-album-day-events-2019/