---

Deezer to host a drive-in '80s music experience for National Album Day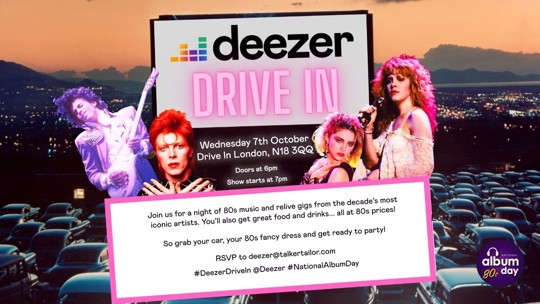 ---

Deezer to host a drive-in '80s music experience for National Album Day
To mark this year's National Album Day, a very special event is taking place. On Wednesday 7th October - Deezer Drive In, will be underway and heading back in time to relieve some of the most iconic gigs of the 80s. Music lovers can relive special live moments of artists such as Madonna and Prince, as well as enjoy themed food and fancy dress!
The special #DeezerDriveIn is part of National Album Day's mission to inspire more people to listen to full albums. Hosted in North London, the drive-in will take place three days before National Album Day itself (10th September).
Knowing the Covid-19 pandemic has meant it's a difficult time for musicians; 100% of the event proceeds will go to Help Musicians. The charity supports musicians with financial hardship, creative development and mental health support.
Enjoy four incredible live recorded performances from 80's legends on a massive top-of-the-range LED screen. Retro fancy dress is strongly encouraged – we're talking big hair, shoulder pads and bold colours. And if we're going back to the 80's, you'll also need 80's menu prices!
Here's our great line-up for the night:
(1988) Madonna, 'The Virgin Tour'
(1987) Prince, 'Sign o' the Times'
(1987) Stevie Nicks, 'Live at Red Rocks'
(1988) David Bowie, 'Glass Spider Tour'
Adam Read, Deezer's Music Editor for the UK & Ireland said, "The 80s was all about extravagance. Fun, catchy tunes that often matched big hair and personalities. We want to relive all the highs with brilliant music from legends like Prince and Stevie Nicks with an unforgettable music experience to support artists during this challenging time. In addition to giving all event profits to Help Musicians, we hope more people will fall in love with 80s music again, streaming albums from such an iconic decade."
Tickets are on sale now for £15 per car from Drive In London. Important Notice: this event will be operating in accordance with all government Covid-19 required safety measures.
Doors open - 18:00.
Gigs start - 19:00. 
There's limited spots available - so grab your tickets HERE and get ready to party 80's style!