---

Elbow to release a special edition Don't Skip CD only available on National Album Day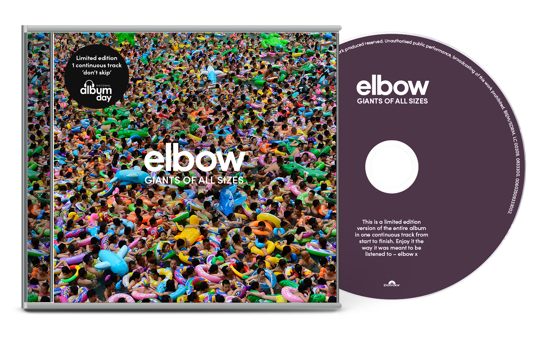 ---

Elbow to release a special edition Don't Skip CD only available on National Album Day
"This is a limited edition version of the entire album in one continuous track from start to finish. Enjoy it the way it was meant to be listened to." - elbow x
As one of this year's ambassadors for National Album Day on the 12th October, and as fervent believers in the power of the album, elbow are pleased to announce a very special, and very limited, CD edition of their new album, 'Giants of All Sizes'.
A 'Don't Skip' version of the album will be available on CD on the day. The album will play as one continuous track giving listeners what the band regard as the optimum way of hearing the record. The CD will only be instore and online for the 12th October and can be found in HMV, on Amazon and at your local independent record store.
'Giants of All Sizes' has already been acclaimed by both MOJO and Q in 4* reviews, with the former heralding a 'raw edged album'.
Lead singer and lyricist Guy Garvey describes the album as "an angry, old blue lament which finds its salvation in family, friends, the band and new life." It is a record that lyrically takes in moments of deep personal loss whilst reflecting its times by confronting head-on the spectres of injustice and division not just in the UK but across the world. It is a record that could only have been made in the 21st Century.
'Giants of All Sizes' was recorded at Hamburg's Clouds Hill Studio, The Dairy in Brixton, 604 Studios in Vancouver and Blueprint Studios in Salford with additional recording taking place at various band member's home studios spread across Manchester.
As with their previous four studio albums, 'Giants' was produced and mixed by keyboard player Craig Potter. Guests across the album include Jesca Hoop, The Plumedores and South London newcomer Chilli Chilton.
'Giants of All Sizes' is released on all formats on 11th October. The special 'Dont Skip' CD edition is available on 12th October.
elbow tour the UK in March and April of 2020. For all dates and ticket details visit www.elbow.co.uk. 
For more information                                          Loudhailer Press
Lewis Jamieson                                                     [email protected] 07718652582 @lewJam