---

HMV announce special events with Album Day ambassador Jess Glynne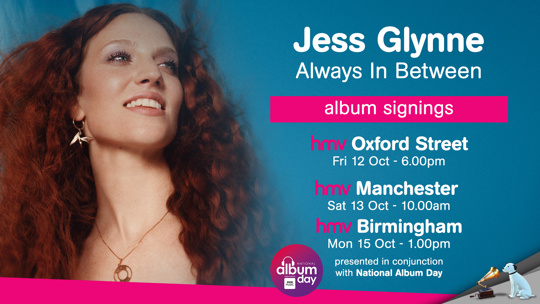 ---

HMV announce special events with Album Day ambassador Jess Glynne
Music retailer HMV bring Jess Glynne fans three very special events as part of the first National Album Day celebrations. Details of how you can attend available here. 
hmv 363 oxford street 
When: Friday 12th October at 6:00pm  
hmv manchester arndale 
When: Saturday 13th October at 10:00am 
hmv birmingham bullring
When: Monday 15th October at 1:00pm 
Jess, who's an ambassador for National Album Day, said: 
"The album to me is a chapter of life. It's a moment to reflect on everything that's happened over a course of time. It's a journey of emotions, the ups, the downs and the in betweens. Its a place of honesty, vulnerability, strength and make believe. You can be whoever you want to be. Listening to an album can take you on a journey that was never yours to begin with but by the end it's all yours. The album is timeless and is stands forever and this is why I love it so much."