---

Ibeyi and Richard Russell join John Kennedy Live in Conversation for Special National Album Day Edition of Tape Notes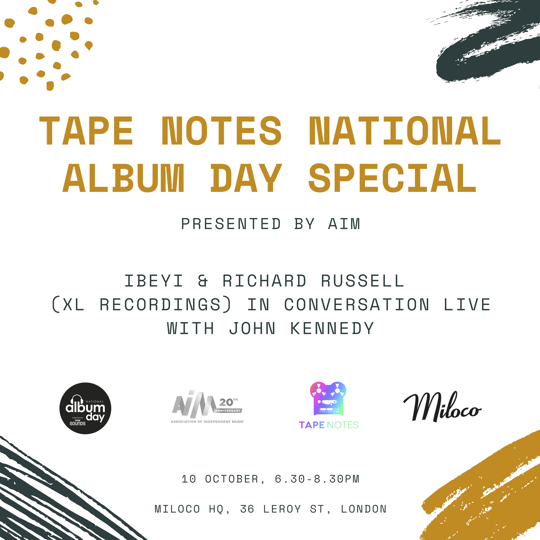 ---

Ibeyi and Richard Russell join John Kennedy Live in Conversation for Special National Album Day Edition of Tape Notes
Legendary producer Richard Russell and French-Cuban musical-duo Ibeyi will join John Kennedy to discuss their work together in front of a live audience for a special National Album Day edition of the podcast Tape Notes, presented in collaboration with AIM. The exclusive event will take place at Miloco HQ in London Thursday 10 October.

Tape Notes, which is presented by Radio X's John Kennedy, reunites artists and producers to tell the story of how they recorded and produced an album together. Underpinning the discussion with previously unheard demo versions, stems and other parts of the arrangement, it tells the story and creative journey that the record undertook.
Ibeyi worked with Richard Russell on both of the group's full-length studio albums released on AIM member company XL Recordings, 'Ibeyi' and 'Ash'. The duo also featured on Russell's Mercury Prize-nominated album 'Everything is Recorded by Richard Russell'. Their music features beautiful interplay between the twin sisters' voices as they sing in English, French and Yoruba. 'Ash' was described by Pitchfork as "Gorgeous, genre-agnostic meditations on resilience and mindful resistance".[i]
In celebration of National Album Day, this live recording of the podcast will see them discuss the creative process and production behind their musical collaborations in front of an intimate audience.

This is an exclusive, invite-only event which will be held in 'the pool' studio at Friend of AIM Miloco's HQ in London, a venue where many influential albums have been made over the years. Tickets will be shared with Ibeyi's fans, AIM members and competition winners.

AIM is an official partner of National Album Day, which is returning for its second year on 12 October. For more information and to find out how you can get involved, visit the National Album Day website: www.nationalalbumday.co.uk
-ENDS-
For further information :
Henry Oliver
Communications Coordinator, AIM
Tel: 020  3771 0400
About the Association of Independent Music (AIM)
AIM is the not-for-profit trade body exclusively representing the UK's independent music sector, which makes up a quarter of the recorded music market. Now in its 20th year, AIM's members range from the largest, most respected record labels and associated music businesses in the world to self-releasing artists and the next generation of entrepreneurs in music. AIM promotes and supports this exciting and diverse sector globally and provides a range of services, commercial opportunities and practical help to members, enabling them to innovate, grow and break into new markets.
About Miloco
Miloco is a global directory of recording studios, representing over 175 studios in 25 different countries. Our vast roster of studios allow us to cater for virtually every type of studio session, whether it's writing, tracking, mixing or mastering. Our comprehensive website allows users to search for studios by location, type of studio, or even by available equipment. But if you need help or can't find the type of studio you need, you can always contact Miloco's bookings team, who can provide you with all the advice you might require to choose the right studio for your project. 
About National Album Day
Following a successful inaugural year in 2018, which celebrated 70 years of the album, National Album Day returns for its second annual edition on Saturday, 12th October 2019. Organised jointly by UK labels body the BPI and ERA, the Entertainment Retailers Association, the music and artist community will come together with BBC Sounds, and with the support of AIM, Classic Album Sundays, and Network Rail among others for a series of events and activities in the lead up to 12th October that will celebrate the UK's love of the album and the craft that goes into making this culturally significant body of work.  
This year National Album Day is themed around the notion of 'Don't Skip', to encourage music lovers to discover albums – both new and classic – in full, as a complete body of work that tells a story. The theme will also serve to highlight the wellbeing and mental health benefits of album listening as a form of musical mindfulness. 
A number of the UK's most prominent artists have already signed up as 'album champions' for this year's National Album Day campaign: No.1 artist Lewis Capaldi, Mercury Prize winners Elbow, BRIT Award nominated Mahalia, and international musician/producer Mark Ronson.
About Tape Notes
Presented by John Kennedy (Radio X) we reunite artists and producers and get them to tell the story of how they recorded and produced an album together. We play previously unheard demo versions, stems and other parts in the arrangement to tell that story and to highlight the creative journey the record undertook. This will be our second live event - our first being at Latitude festival this year. 
tapenotes.co.uk