---

India Arkin will release her debut album on National Album Day as first HMV label signing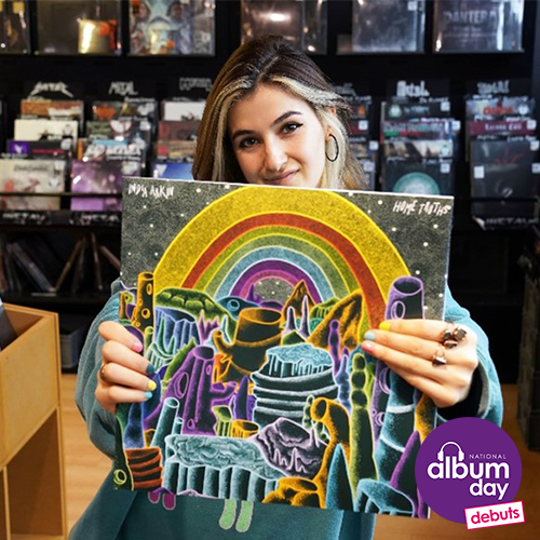 ---

India Arkin will release her debut album on National Album Day as first HMV label signing
More than 100 gigs are set to take place at hmv stores across the UK this National Album Day (Saturday 15th October) as the entertainment retailer commits to giving new musical talent a platform in its stores.
Since the start of the year, more than 1,000 grassroots gigs have taken place at the retailer's stores through its hmv Live & Local programme.
The programme's success has now resulted in hmv signing a singer-songwriter from Newcastle as it launches its new record label, 1921 Records. India Arkin's "Home Truths" will release on National Album Day – which celebrates the art of the album and this year is themed to debut releases – and could be a top ten vinyl album according to experts at hmv.
hmv's label harks back to the shop's roots, with 1921 being the year that The Gramophone Company opened His Master's Voice on London's Oxford Street. Ten years later, the company would join with Columbia Gramophone Company to form Electric and Musical Industries – more commonly known as EMI.
India was picked as the label's first signing after staff saw her perform at the hmv shop in Newcastle and were impressed, describing her as having a similar sound to Laura Marling and Billie Eilish. The 22-year-old singer-songwriter, originally from Bath, balances writing and performing music with studying Fine Art at the University of Newcastle.
Since the start of this year, hmv has opened nine new stores, with three more to come before Christmas. Each of the new shops comes with a renewed focus on vinyl and fan-based pop culture, whose increasing popularity has fuelled increased footfall at hmv shops in comparison to the rest of the post-Covid high street.
"Home Truths" will go on sale exclusively on vinyl in hmv stores across the UK on 15th October, and insiders have predicted that it could make the top ten thanks to its promotion across hmv's 115* UK stores.
Doug Putman, owner of hmv, said: "India's music is absolutely incredible and we're thrilled to make her our first 1921 Records signing. She has such passion for her craft, and she's a true musician who writes, plays instruments and performs.
"We're really proud of our hmv Live & Local programme, which sees artists like India given the same platform as the international artists who come to our stores, like Charli XCX and Yungblud. India's performances in Newcastle got rave reviews from our staff and led to her being signed today.
"With our new label, we want to do what we can to help debut artists make their mark in a tough industry. Streaming algorithms mean it's hard for new artists to get their voices heard, so we're giving them the chance to get their albums in our stores where music fans can discover them for themselves.
"This is just the beginning for 1921 Records – it's our mission to get more fantastic albums by debut artists into the homes of music fans. hmv is leading the way in the vinyl revival, so it makes sense for us to create our own label and promote the music we know our shoppers care about."
India Arkin said: "I'm thrilled to be releasing my debut album with 1921 Records, and it's almost unbelievable that gigs in the store in hmv Newcastle would lead to this. I can't wait to see my record on the shelves and tour the country performing with my band."