---

Mural unveiling in Birmingham - 40th anniversary of Steel Pulse's Handsworth Revolution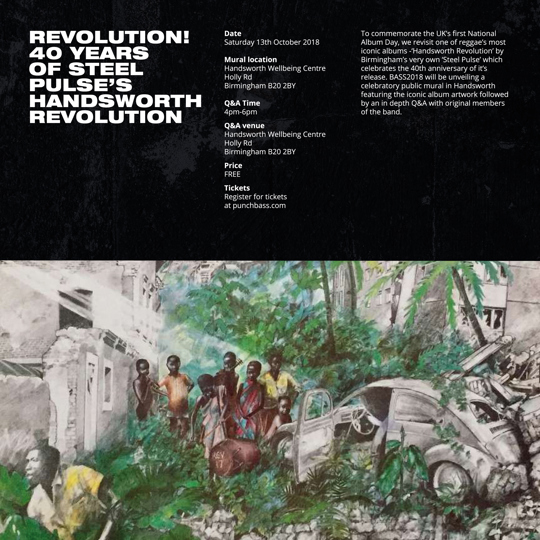 ---

Mural unveiling in Birmingham - 40th anniversary of Steel Pulse's Handsworth Revolution
To commemorate National Album Day, Punch Records are revisiting one of reggae's most iconic albums 'Handsworth Revolution' by Birmingham's very own Steel Pulse which celebrates its 40th anniversary of this year.
A public mural will be unveiled in Handsworth, Birmingham featuring the iconic album artwork, which will then be followed by an in-depth Q&A with the original members of the band Mykaell Riley and Basil Gabidon chaired by Jez Collins from Birmingham Music Archive. BASS2018 Festival will be unveiling the mural at 2PM on Saturday 13th October. 
BASS2018 Festival is celebrating 50 years of the word 'Reggae', named after the district of Birmingham from where the group hailed, Steel Pulse's 'Handsworth Revolution' is today widely regarded as the greatest Reggae album ever recorded by a British act. 
This is all free to attend but you need to register to attend here.
Mural location:
Handsworth Wellbeing Centre, Holly Road, Birmingham, B20 2BY

Mural unveiling time:
2:00PM

Q&A location:
Handsworth Library, Soho Road, Birmingham, B21 9DP

Q&A time:
4:00PM
More information available:
https://www.wearepunch.co.uk/album/revolution-40-years-of-steel-pulses-handsworth-revolution/