---

Must See Movies returns to celebrate the best films of the 80s for National Album Day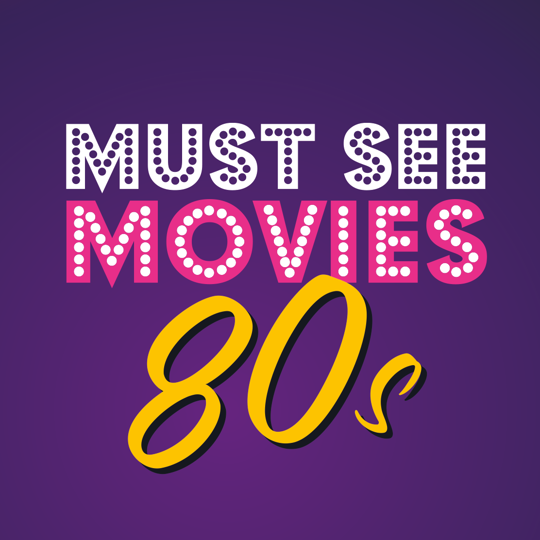 ---

Must See Movies returns to celebrate the best films of the 80s for National Album Day
5th October 2020 – A huge Must See Movies 80s celebration is confirmed from Saturday 10th October with supermarkets and retailers including Amazon, ASDA, HMV, Morrisons, and Tesco stocking an exclusive range of classic 80s film titles including; Big, Blade Runner, Bill & Ted's Excellent Adventure, Cocktail, Conan The Destroyer, Dirty Dancing, Dune, ET, Ghost, Ghostbusters, The Goonies, Labyrinth, The Lost Boys, Purple Rain, Robocop, Stand By Me, Top Gun and Who Framed Roger Rabbit.
While the hairstyles may thankfully have been forgotten and shoulder pads continue to gather dust in the loft, audiences love to revisit the 80s and Must See Movies 80s in conjunction with National Album Day provides the perfect opportunity to revisit some of the decades' greatest and most cherished movies.
This special promotion will take place in participating stores across October and throughout the UK, with each retailer offering their own unique selection of titles, meaning a true aficionado will have to hit the local high street in order to collect them all! From cult classics to defining movies of the era, there really is something for everyone.
To help celebrate the occasion, the Official Charts Company and National Album Day will also be running the Ultimate 80s Movie Poll to settle the debate once and for all, and perhaps provide inspiration for what to watch next - head here to take part now. With ace fighter pilots up against robotic cops, cartoon rabbits, and paranormal investigators – it's really anyone's game!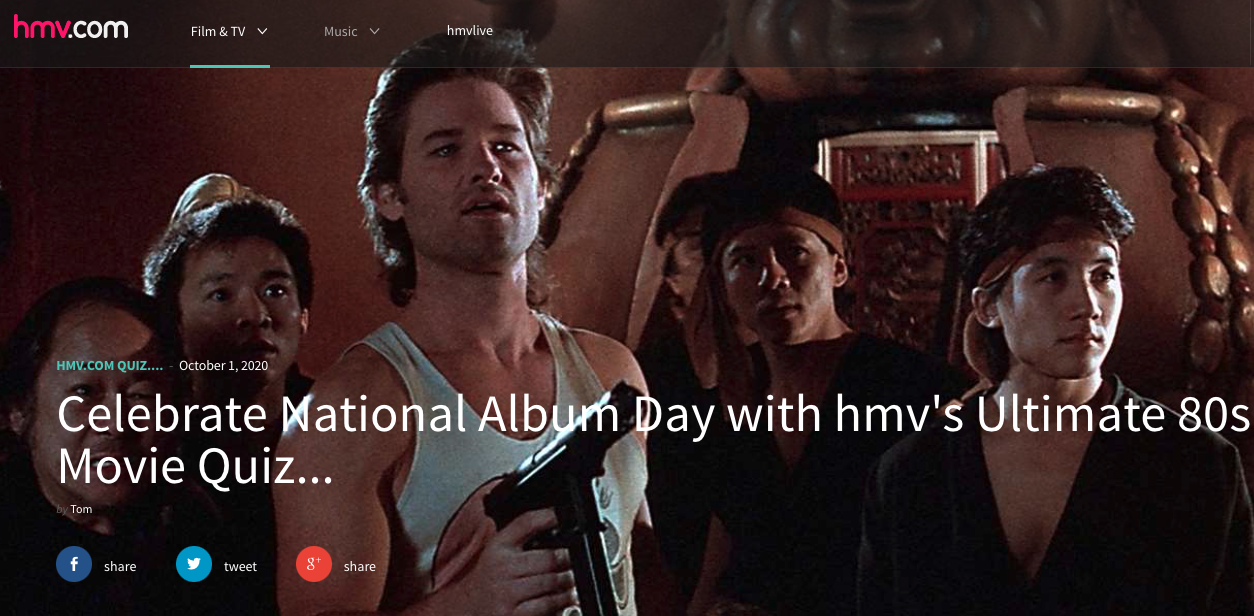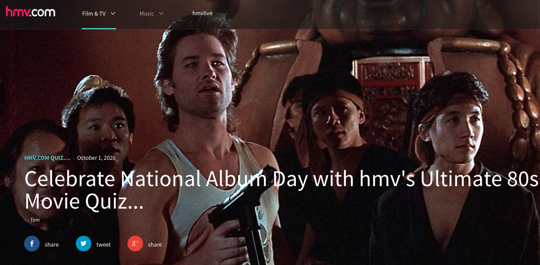 To amp up the 80s action even more, HMV.com have put together a handy quiz via their website, where users can test their knowledge of the decade in film. Click here for the Ultimate 1980s Movie Quiz!
80's Music and Film Icon & National Album Day Ambassador, Toyah Willcox said "Great music and cinematic stories have always gone hand in hand and the 80's is a perfect example. Cinema in the 80's was revolutionary for bringing high octane action and rock music together and I am proud to have been a part of this era. Cinema in 80's was also about bringing the audience thrills, thrills and even more thrills. Never has there been a more appropriate time to revisit this celluloid adventures."
Entertainment Retailers Association CEO, Kim Bayley said "National Album Day is about bringing people together over their love of the album. With two successful editions already under our belt, 2020 is the perfect opportunity to extend the campaign to physical video retailers with a selection of product that perfectly complements the era of 80s music and entertainment. Campaigns like National Album Day are a great industry example of what can be achieved when record labels, artists, media and retailers come together to support a common goal and so we are delighted to welcome studios to the celebrations this year."  
This year's 80s themed National Album Day also creates the perfect opportunity to revisit some of the decade's greatest soundtracks on vinyl – from Top Gun to Footloose!