---

National Album Day Announces 2023 Ambassadors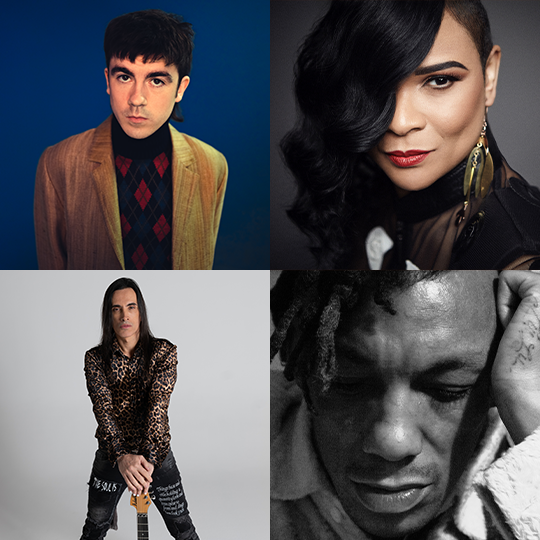 ---

National Album Day Announces 2023 Ambassadors
National Album Day today announces music icons Gabrielle, Declan McKenna, Tricky and Nuno Bettencourt as this year's artist ambassadors. National Album Day, held on Saturday 14th October, will celebrate the 90s this year and 75 years of the album format. National Album Day is presented in association with official audio partner Bowers & Wilkins and official broadcast partner BBC Sounds.
From the early 90s, Gabrielle has been one of the UK's most successful and beloved artists. With two unforgettable #1 smashes ('Dreams' and 'Rise'), a back catalogue full of Top 10 hits, two albums which reached 4 x Platinum status, two BRIT Awards, two MOBOs and an Ivor Novello, everything she touched seemed to turn to gold. Gabrielle has enjoyed a remarkable resurgence in recent years, one that proves that timeless, empowering songwriting and a distinctive voice that is the very definition of soul will never go out of fashion. This autumn will see Gabrielle embark upon the '30 Years of Dreaming' headline tour which has been extended to a phenomenal 33 dates following overwhelming public demand. 
Gabrielle says: "I am thrilled to be an ambassador for National Album Day. I released my album Rise in the 90s and it is the one I am most proud of. I've recently started collecting albums on vinyl myself and really enjoy that they encourage you to listen to a body of work in its entirety."
Known for being the lead guitarist in Boston rock band, Extreme, Nuno Bettencourt has been making his mark on the music industry since 1985. Extreme released six studio albums, including the acclaimed 'Pornograffitti' in 1990, which featured the global smash, 'More Than Words'. In 1997 Nuno shared his debut solo album 'Schizophonic', the band's most recent album 'Six' was released in June of this year. Alongside Extreme, he has also played for some of the  world's biggest music stars, including Rihanna.
Nuno says: "I never wanted to put any music out for the sake of putting music out. When you listen to an Extreme album, you're getting something that we're really proud of. Albums are a labour of love. They are a snapshot of a time in the artist's life. A story needing to be told. When I think of my favourite artists, I think of the records that I wore out. The experience of getting lost in the music and taking a journey with the band. I'm excited to be an Official Ambassador for National Album Day because that is what rock is about. The body of work. The connection with the listener. Experimenting and taking chances. Expressing yourself and connecting with the listener.  So put on your favourite record, or put on something new and take that journey with the artist. The way it was meant to be."
After winning the Glastonbury Festival's Emerging Talent Competition in 2015, Declan McKenna has made an unforgettable impression on the music industry with his creatively ambitious songwriting. Following his debut single 'Brazil', Declan has released two albums, including the best seller 'Zeros'. Since then, the singer-songwriter has been out on the road across the US touring, and is ready for a late summer return to the UK for Reading & Leeds Festival. 
Declan says: "Albums are still the best way for fans to connect with the true intention of art, and to enjoy and understand the vision of an artist. They create true artists and in turn create true fans. The 90s was a time of huge change in the world of music, the recording process was evolving to something closer to the accessibility that exists today, and so it has a legacy containing many records that are completely timeless, and many others that feel at the least somewhat stuck in their time, this is what happens when artists push things forward and why the 90s has so many niches that belong to it. It's a beautifully varied era of music."
Tricky is one of the most groundbreaking UK artists of all time. Relentlessly creative, his career
started as part of Massive Attack before going solo and releasing 'Maxinquaye' - a peerless album seen as one of the most important and revolutionary of the past 40 years. Tricky has recently revisited the record, completely reworking six tracks. 'Maxinquaye (Reincarnated)' which features a remastered version of the album as well unreleased remixes and of course the 'reincarnated' tracks. With a career now spanning over 30 years, his hunger for creativity has not waned and he continues to perform live all over the world.
Tricky says: "I'm very happy to be an ambassador for National Album Day as the album holds such an important place in an artist's career. In today's world where so much is designed around short form or bite size content the album format is an important antidote. It provides the artist with the opportunity to work without compromise and create something truly enduring.
Now in its sixth edition, National Album Day sees the music community come together each year to celebrate and promote the art of the album. This year's 90s theme will look to shine a light on a profoundly rich decade for music and album making that skipped between Britpop, Dance and Hip Hop; gave us national treasures Take That and global phenomenon the Spice Girls; and saw diverse genres ranging from dance, house and techno to R&B, rap and reggae and to grunge and industrial rock, among many others, rise to reach their full cultural expression –  in the UK and globally.
National Album Day is again presented in association with official audio partner Bowers & Wilkins and official broadcast partner BBC Sounds, and will pay tribute to artists who tell their stories behind these significant and influential bodies of work. Artist ambassadors tied into the theme – both those that came to the fore during the 1990s and current new and emerging talent that are inspired by its music; specially reissued albums and new releases; and promotional events and other activities will be announced in due course alongside further updates.
Since its launch in 2018, NAD has been supported by a broad range of artist ambassadors, including Kylie Minogue, Joy Crookes, Sharleen Spiteri, Lewis Capaldi, Mark Ronson, La Roux, Elbow, Paloma Faith, Blossoms, Alice Cooper, Novelist, Tom Odell, Mahalia, Toyah Willcox and Jazzie B. Last year Franz Ferdinand, India Arkin, KSI, The Mysterines, Sam Ryder, and The Staves were the latest talents to add their voices as passionate advocates of the long player. 
Typically benefitting from around a week-long build up, NAD has hosted a variety of activities such as listening events with album platforms including Classic Album Sundays, Pitchblack Playback, The Record Club, Tape Notes and Tim's Listening Party; live performances; in-store artist appearances and record store promotions, street art murals; and album sleeve artwork exhibitions.
Renowned audio brand, Bowers & Wilkins, continues its support for National Album Day as official audio partner. Built on a passion for music, Bowers & Wilkins has been on an unrelenting pursuit of the highest quality listening experiences for music fans for over 60 years, always delivering sound that remains true to how the artist intended their album to be heard. 
National Album Day will announce an extensive list of exclusive 90s albums on 13th September that are being released or reissued on vinyl and CD to coincide with this annual event celebrating the art of the album.