---

National Album Day billboards and Album Hunt launched in 18 UK cities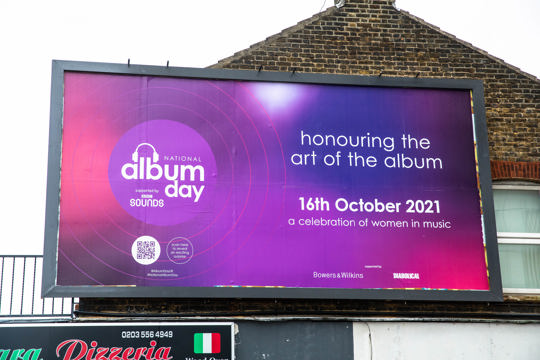 ---

National Album Day billboards and Album Hunt launched in 18 UK cities
13th October: To celebrate National Album Day, we are excited to announce the launch of more than 200 interactive billboards across the UK with thanks to our outdoor media partner DIABOLICAL.
On each of the billboards is a QR code which, when opened, reveals a special interactive in-browser experience created by Landmrk. Fans will be invited on a trail of music discovery to learn all about 10 iconic albums by women artists, including Amy Winehouse's Back to Black, Solange's A Seat at The Table and Dua Lipa's Future Nostalgia.
At each hotspot fans can unlock an exclusive testimonial by an album expert as well as having the opportunity to enter a unique competition to win an exclusive bundle of National Album Day vinyl products and a top of the range Bowers & Wilkins Formation Wedge speaker.
The trail of 10 albums is available in multiple cities throughout the UK, with the hotspots outlined on a map via albumhunt.co.uk
Locations across the country include record shops, venues, and public spaces. Find out more information and get involved at albumhunt.co.uk!

Locations to join in the Album Hunt:

London
Manchester
Birmingham
Liverpool
Leeds
Southampton
Newcastle
Sheffield
Brighton
Bournemouth
Nottingham
Bristol
Coventry
Norwich
Glasgow
Edinburgh
Belfast
Cardiff