---

National Album Day White Label Auction raises £25k for charity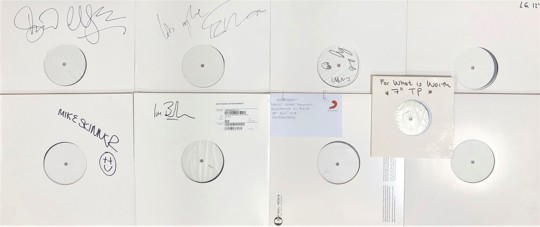 ---

National Album Day White Label Auction raises £25k for charity
Yesterday's (5 Oct) White Label Auction of rare LP test pressings – held to mark next Saturday's (12 Oct) National Album Day proved a smash hit with album fans and music memorabilia collectors.
The sale of nearly 150 lots by Omega Auctions generated a fantastic total of £25,335 for music industry charity The BRIT Trust to support its work promoting education and wellbeing through music, in this, its 30th anniversary year.
Arctic Monkey's Tranquility Base Hotel + Casino attracted the highest bid of £1,300, while a pressing of the 50th anniversary reissue of The Beatles' Abbey Road (donated by Paul McCartney and Apple Records) – which on Friday went straight to No.1 in the Official Album Charts – also proved hugely popular, attracting the second highest sale price of £850.  This was matched by the price paid for a Sex Pistols lot featuring the band's Never Mind The Bollocks and God Save The Queen albums.  Two lots featuring a range of Genesis LPs each went for £700, just ahead of Faith – George Michael's 1987 debut album (£620) and Oasis' Definitely Maybe (£600). Coldplay's 3-LP Butterfly Package (£580), Brian Eno's Apollo: Atmospheres & Soundtracks (£540), Kylie Minogue's Step Back In Time (£500) and The Specials self-titled The Specials (£500) made up the rest of the top 10 best-sellers list. 
The Specials generated the highest total overall – £2,000 spread over five lots. Other artists featured in the sale included David Bowie, Biffy Clyro, Anna Calvi, Eric Clapton, Foals, Liam Gallagher, Lianne La Havas, Lenny Kravitz, Manic Street Preachers, Mark Ronson, Ed Sheeran, Tom Speight, Dusty Springfield, Thin Lizzy, Paul Weller, The Who and many more.
The items were, with artist and artist management support, donated by the UK's major and independent record labels and companies, including Universal Music, Sony Music, Warner Music, BMG, Domino Records, Blue Raincoat Music, Cherry Red, Kobalt Music, Sour Mash, Ignition and Apple Records.  The auction was supported by media partner Record Collector magazine.
Johnny Chandler, Catalogue A&R Director at UMC, Universal Music UK, who came up with the idea and collated the items, said: "This is such a brilliant result made possible by the generosity of all the labels who donated test pressings and the artists and managers who gave their blessings. I'd like to thank them all along with the BPI, Omega Auctions and the fans and collectors who went online to bid.  The money raised will be put to great use by The BRIT Trust, and hopefully we have planted the seed for something that's a little bit different that can become an anticipated annual event."   
Omega Auctions auctioneer, Paul Fairweather, said: "It was an incredible sale with the prices realised and bidding activity a great reflection on how strong the market for vinyl is. Record breaking prices for artists such as The Arctic Monkeys, Liam & Noel Gallagher and Coldplay plus the fact that it has raised a lot of money for charity have made this an excellent day for all involved.  We are already looking forward to doing something similar next year."
John Craig, Chairman of The BRIT Trust charity, said: "It's wonderful that the White Label auction for National Album Day has raised such an amount to support the vital work of The BRIT Trust in promoting education and wellbeing through music. The backing we give to a range of charities and good causes, such as The BRIT School, Nordoff Robbins and Music Support, is more needed than ever, and on behalf of all the trustees I would like to sincerely thank all the labels and artists that donated, the BPI and the organisers of the auction, not least Johnny Chandler, at Universal Music UK, whose original idea it was."