---

Pitchblack Playbacks - the ultimate album listening experience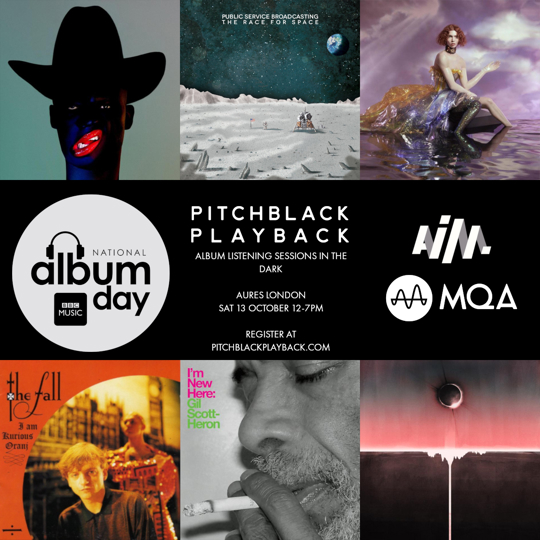 ---

Pitchblack Playbacks - the ultimate album listening experience
The Association of Independent Music (AIM), in association with Pitchblack Playback and MQA, have announced an all-day, fully immersive listening event to celebrate National Album Day 2018.
Pitchblack Playback, as the name suggests, allows audiences to listen to albums in the dark through high quality audio systems to experience the most visceral, powerful sound experience possible.
Six albums released on independent labels will be played back in MQA to deliver 100% of the original studio performance and deliver the highest quality audio experience.
Taking place on Saturday 13th October between 11.30am and 6pm in The Sensorium at Aures London, each album will form part of a unique listening experience for music fans.
This event is free to attend - full details and tickets, which are available on a first come first served basis, can be found at:  http://www.pitchblackplayback.com/national-album-day/
The Sensorium is a unique blank canvas event space within a seven-metre high exposed brick arch and over 2,000 square feet of floor space.  It features a groundbreaking 3D sound system with 50 speakers and 10 amplifiers, offering state of the art technology to fully enhance the listening experience.  
The six albums to be featured (in order of playback) are: 
Mogwai – Every Country's Sun (Rock Action) 
Gil Scott-Heron – I'm New Here (XL) 
The Fall – I Am Kurious Oranj (Beggars Banquet) 
Public Service Broadcasting – The Race For Space! (Test Card Recordings) 
Young Fathers – Cocoa Sugar (Ninja Tune) 
SOPHIE – Oil Of Everything Pearls Un-Insides (Transgressive)