---

Re-imagined debut album artwork murals unveiled in Edinburgh and Liverpool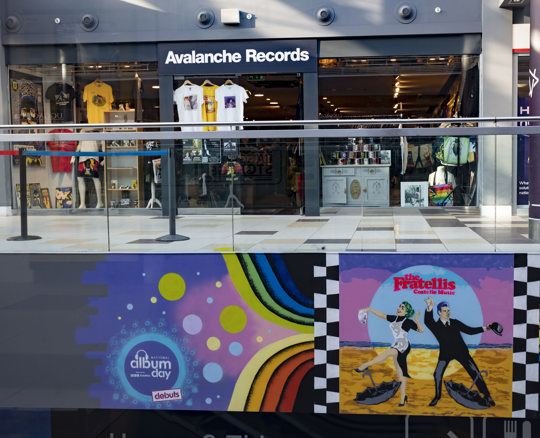 ---

Re-imagined debut album artwork murals unveiled in Edinburgh and Liverpool
14th October: In association with Bowers & Wilkins and BBC Sounds, National Album Day returns for its 5th edition on Saturday 15th October, when it will celebrate the album art form and this year's theme of debut albums.
To mark the occasion in Edinburgh and Liverpool, two special murals featuring re-imagined debut album artwork have been commissioned and created by local artists at renowned independent record stores: Avalanche Records in Edinburgh and 81 Renshaw in Liverpool. In Edinburgh, renowned artist Gerry Gapinski who is based in the old town and specialises in original art prints, paid tribute to The Fratellis' debut album from 2006, Costello Music, with his mural using spray paint and hand-cut stencils. The piece is presented outside Avalanche Records in Waverley Mall.
The Fratellis commented: "We're really pleased Costello Music has been chosen to be part of National Album Day – For us recording an actual album with an incredible producer in a studio that we're still not sure really exists all felt magical. To see it for sale in the record stores that we'd spent half our lives in was surreal..to hear that people were actually buying copies was just about the best news we'd ever heard.
"The artwork for the album almost perfectly captured the character of the band and the music at that time. Reimagining it in the style of Jack Vettriano makes sense to me and we are all really happy with the result – it's a clever interpretation and we feel honoured to have been chosen for the mural.
"If it encourages people to pick up an album, whether it's ours or someone they maybe haven't really heard before, then that's great.
Avalanche Records owner Kevin Buckle commented "I wanted to choose an album that gave the artist something to work with image-wise and would be recognised by all ages. Costello Music is still a big-selling album for Avalanche, especially with younger buyers and Gerry has captured the original fifties feel while cleverly referencing a famous painting.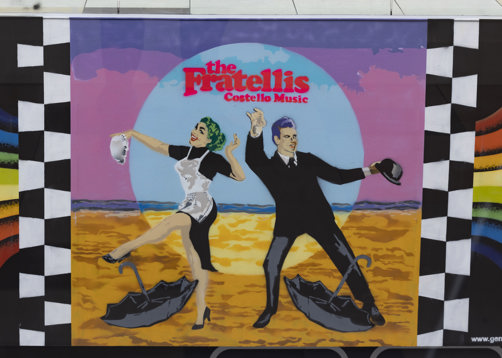 The artist Gerry Gapinski said "I was asked to reimagine The Fratellis debut album, Costello Music. The image I painted is a play on Jack Vettriano's famous painting, The Singing Butler. The idea was to present the butler and the maid having a party on the beach, listening to The Fratellis, after their classical dancing employers had left the beach. A contrast between high culture and popular culture in a musical sense. This contrast is mirrored by the stencil graffiti art style I used to paint it, in contrast to the classical painting style of Vettriano's original painting. I decided in the design stage I would try to keep the vintage, 'pinup' feel of the original Fratellis album cover, so there would be a connection and continuity with it, that hopefully folk could recognise."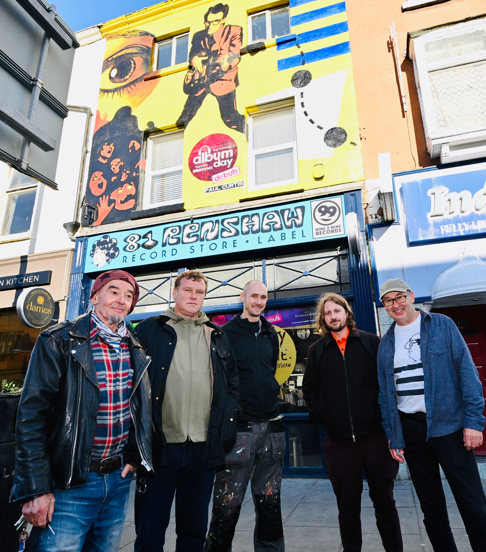 In Liverpool, street artist Paul Curtis has built a strong following and reputation locally for his large murals and outdoor artworks, creating more than 200 pieces within the Liverpool and Wirral area as well as other locations across the UK.
Using emulsion paints for the undercoat and acrylic paint for the overcoat, applied with brushes, Paul has re-imagined Elvis Costello's 1977 debut album My Aim Is True outside 81 Renshaw in the city centre. The piece also features artwork from the Zutons' debut album Who Killed...... The Zutons?, The La's The La's and Yachts self-titled debut.
Elvis Costello said: "I particularly love the rendering of my glass slippers and terrified expressions of the onlookers. Many thanks to all concerned."
81 Renshaw owner Neil Tilly commented: "National Album Day is a significant date in the calendar here at 81 Renshaw and to celebrate this year's theme we have created a mural that displays four historical debut releases by local artists. Each release was significant, and the mural displays key aspects of each of the covers in a vibrant and vivid display that will be seen by thousands of people over the next few days."
Since its launch in 2018, National Album Day has been supported by a diverse range of artists including Kylie Minogue, Joy Crookes, Sharleen Spiteri, Ray BLK, Lewis Capaldi, Mark Ronson, Elbow, Paloma Faith, Blossoms, Alice Cooper, Novelist, Tom Odell, Mahalia, Toyah Willcox and Jazzie B among others. Ambassadors this year are Franz Ferdinand, India Arkin, Jake Bugg, KSI, The Mysterines, Pip Millett, Sam Ryder, and The Staves.
Renowned audio brand, Bowers & Wilkins, continues its support for National Album Day as official audio partner. Built on a passion for music, Bowers & Wilkins has been on an unrelenting pursuit of the highest quality listening experiences for music fans for over 60 years, always delivering sound that remains true to how the artist intended their album to be heard