---

Special events announced to celebrate National Album Day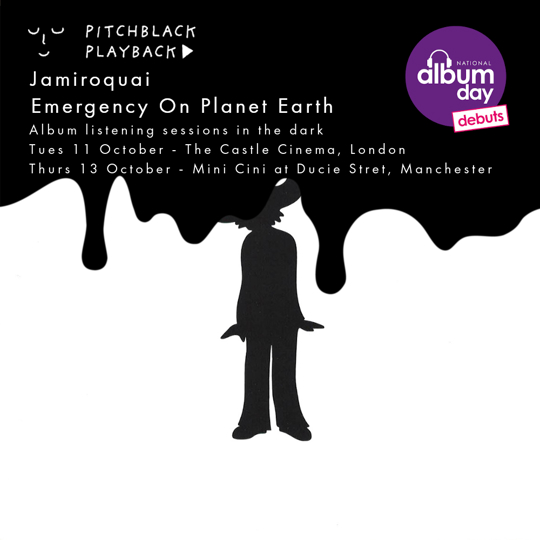 ---

Special events announced to celebrate National Album Day
National Album Day celebrates the art of the album and returns for its 5th edition on Saturday 15th October, when it will explore debut albums. The day is presented in association with Bowers & Wilkins and BBC Sounds.
As in previous years, hundreds of events will take place across the UK in the build up to and on the day of National Album Day itself, including with album platforms and with independent and specialist record stores. 
This will build on the amazing launch event for this year's campaign which saw National Album Day ambassador Sam Ryder perform songs from his upcoming debut LP There's Nothing But Space, Man! in aid of War Child at London's Lafayette on Monday 26th September and was live-streamed on Tik Tok.
Over 100 hmv stores across the UK will also be hosting 'Live and Local' shows by unsigned talent, as well as a special performance by National Album Day ambassador and Newcastle singer-songwriter India Arkin – newly signed to hmv's label, 1921 Records. Head to your local hmv to find out more about the shows in your area.
Classic Album Sundays tells the stories behind the albums that have shaped our culture, and this year present two exclusive listening events. Nick Heyward of new wave group Haircut 100 will be joining CAS founder Colleen 'Cosmo' Murphy on Thurs 13th October to celebrate four decades of the band's debut LP Pelican West.
The following week on Thurs 20th October, Kevin Rowland and Jim Paterson of Dexy's Midnight Runners will discuss their classic album Too Rye Ay. Both events will take place at The Royal Albert Hall and will feature a full album playback on a world-class reference quality sound system from Bowers & Wilkins for a special listening experience. Nick Heyward tickets can be found here and for Kevin Rowland & Jim Paterson here.
Pitchblack Playback will be hosting immersive listening events – held in the dark for a heightened sensory experience – for Jamiroquai's seminal debut Emergency on Planet Earth – to be enjoyed with no distractions in 16-bit resolution audio upmix to surround sound. Taking place in London on Tues 11th October at The Castle Cinema, Hackney, and Manchester on Thurs 13th October at Mini Cini.  Go to Pitchback Playback for tickets.
Tim Burgess will again join in the National Album Day festivities with Twitter Listening Parties with National Album Day ambassador Jake Bugg and Northern Irish rock band Ash to celebrate their debut albums Jake Bugg and 1977 respectively on Sat 15th October. More artist special listening parties for National Album Day will be announced soon. Check out Tim's Listening Party on Twitter for more info.
Outdoor media partner DIABOLICAL, part of BUILDHOLLYWOOD, will be placing billboards and posters in various locations around the UK to encourage the public to share their favourite debut album of all time, from any genre or decade. Just scan the QR code and start the conversation.
Other activity is still TBC, including with the Record Club, and a PA tour on Sat 15th October by National Album Day ambassadors The Staves.  Street art murals in Edinburgh and Liverpool that will celebrate the debut album heritage of those cities are also planned  – please check the NAD site here for further updates.
There will also be dedicated programming on BBC Sounds, Radio 2 and BBC Four – details to be announced.
Fans can also join in the National Album Day fun by heading to their favourite store or online to explore a great selection of new albums and classic reissues that are being released in highly collectable limited edition vinyl LP and CD formats to coincide with National Album Day, including: alt-J, Blossoms, Jake Bugg, Mariah Carey, Travis, Wu Tang Clan and many more. See below or check the NAD website for more details and sleeve-notes.
Alexander Ullman - Liszt: Piano Concertos 1&2, Sonata in B Minor (CD)
alt-J - An Awesome Wave (limited fern green colour vinyl)
Black Sabbath - Black Sabbath (limited black & purple splatter vinyl)
Blossoms - Blossoms (limited edition orange vinyl)
Bunny Scott - The Love Somebody (expanded edition CD)
Christone "Kingfish" Ingram – Kingfish (limited edition 140-gram translucent yellow vinyl)
The Clash - The Clash (transparent pink vinyl)
The Damned - Damned Damned Damned (limited edition yellow vinyl)
Finley Quaye - Maverick A Strike (yellow vinyl)
Jake Bugg - Jake Bugg (10th Anniversary remastered with 16 bonus tracks 3-CD set and 2-LP black & gold vinyl set)  
Jamiroquai - Emergency on Planet Earth (2-LP transparent vinyl)
Jennifer Lopez - One The 6 (peach coloured vinyl)
Mariah Carey - Mariah Carey (coloured vinyl)
Marine Girls - Lazy Ways and Beach Party (new edition CD)
Nas - Illmatic (limited edition red & blue vinyl)
The National - The National (white vinyl)
Nessa Barrett - Young Forever (debut album release on CD)
The Police - Outlandos d'Amour (limited edition blue vinyl)
Rainn Byrns - New In Town (vinyl & CD)
Sharky - People Are Strange (Digital fomat)
Smith & Burrows - Funny Looking Angels (limited edition picture disc vinyl)
The Staves - Dead & Born & Grown (recycled black vinyl)
Supergrass - I Should Coco (remastered black vinyl)
The The - Soul Mining (remastered vinyl LP)
Travis - Good Feeling (25th Anniversary vinyl re-issue with 'fan thank you' sleeve)
Wu Tang Clan - Enter The Wu-Tang (36 Chambers) (limited edition gold vinyl)
--
Since its launch in 2018, National Album Day has been supported by a diverse range of artists including Kylie Minogue, Joy Crookes, Sharleen Spiteri, Ray BLK, Lewis Capaldi, Mark Ronson, Elbow, Paloma Faith, Blossoms, Alice Cooper, Novelist, Tom Odell, Mahalia, Toyah Willcox and Jazzie B among others.  Ambassadors this year are Franz Ferdinand, India Arkin, Jake Bugg, KSI, The Mysterines, Pip Millett, Sam Ryder, and The Staves.
Renowned audio brand, Bowers & Wilkins, continues its support for National Album Day as official audio partner. Built on a passion for music, Bowers & Wilkins has been on an unrelenting pursuit of the highest quality listening experiences for music fans for over 60 years, always delivering sound that remains true to how the artist intended their album to be heard.
Visit the National Album Day website for updates and follow us on @AlbumDayUK and #NationalAlbumDay