---

The Blackheart Orchestra releasing new album 'Mesmeranto' coinciding with National Album Day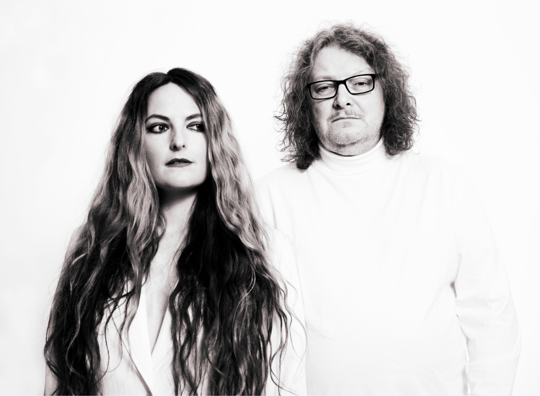 ---

The Blackheart Orchestra releasing new album 'Mesmeranto' coinciding with National Album Day
Esoteric Antenna is delighted to announce the release of the excellent new studio album by the award-winning The Blackheart Orchestra. The two-piece group features Chrissy Mostyn and Rick Pilkington, who are well known for creating emotionally deep and memorable music. The album, which has been also been released to celebrate National Album Day, paints emotional landscapes by fusing electronica and classical instrumentation, haunting vocals and multi-layered harmonies.
Mesmeranto is a 60-minute piece of music split into 14 songs, rather like 14 chapters of a book or 14 scenes in a film. The plot is life and how we fear it, cherish it, cling to it and ultimately prepare for the end of it.
Mesmeranto was written and recorded in a period of 18 months from November 2017 to April 2019 and the songs were written in the UK, Denmark and Germany. The album was born from the personal experiences of Chrissy Mostyn and walks the listener through a journey of fear, anger, loss, grief, joy and triumph, translating those feelings into music. The opening song, Ennikur, is a conversation, a hymn of love and hope to a fragile friend slipping away, and the album then moves on through the angry anthemic, life-affirming power of I Am, the hauntingly primal Wolves, the peace anthem Left To Right, the resentful Good Weather, the regretful Never Do, Do I and ultimately to the concluding track Another Lifetime, which attempts to express the passage of life and arrival in the next life through the context of modern classical music mated with modern rock.
Mesmeranto is a stunning musical experience from one of the most innovative of groups in modern Progressive music. To celebrate National Album Day on 12th October the group will play Mesmeranto chronologically and in full at their headline slot at the North Cornwall Book Festival in Plymouth.
1. Ennikur
2. Drown Me Out
3. Wolves
4. All Of Me
5. I Am
6. Back To Earth
7. Good Weather
8. You And I
9. Left To Right
10. More
11. Never Do, Do I
12. Try
13. Violet
14. Another Lifetime